Gatorland calls itself a Theme Park, but it could just as easily be called a Zoo. There are many animals to see, as well as a whole lot of alligators including white ones. It started out in 1949 as a roadside attraction and is still small compared to the Disney parks. However, that is part of its charm. It is also quieter and more relaxing than the big parks. Don't get me wrong, it is not boring and besides viewing all the animals you can watch shows, hike on a boardwalk through the swamp and even try zip lining!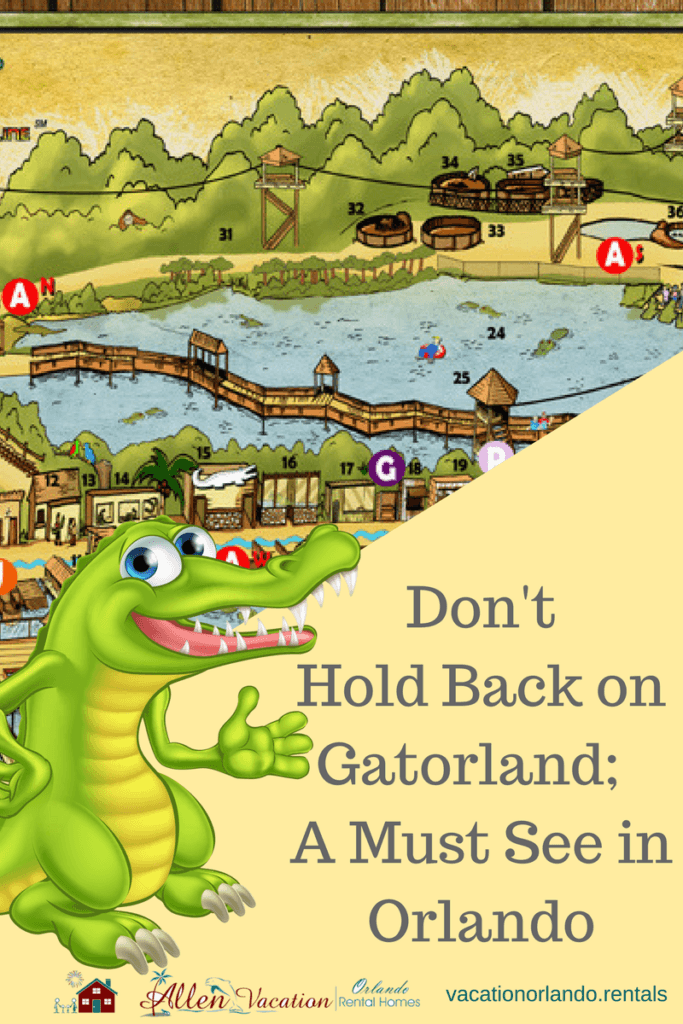 Stompin' Gator Off-Road Adventure Fall 2017
This new attraction is slated to open in the fall of 2017. At this attraction, you get to ride in one of three brand new 12-foot tall custom made off-road monster vehicles. Each vehicle seats 12 people plus driver and will traverse swamps and hills in never before seen areas of Gatorland. Of course, it will also drive through waters teaming with alligators.
Screamin' Gator Zip Line
If you would like to defy death and zip line over alligators on over 1,200 feet of zip lines, then this is the place for you. You get to launch from towers that are over seven stories tall with multilevel launch pads and awesome views of the treetops. For $69.99 you get a two-hour experience starting with a brief safety and orientation overview. The ticket also allows you tour the entire park for the rest of the day.

Gator Jumparoo Show
This show is exciting and a little bit scarry. They actually hand feed gators as they leap four or five feet out of the water. It is entertaining and educational at the same time. You walk away with some new knowledge and a little more respect for the danger of big alligators.
Gator Wrestlin' Show
In an 800 seat shaded stadium you relax and watch a gator wrangler catch a 6 to 8-foot alligator by hand. They then cover some educational points about the animals survival features. Lastly, they perform some brave (or foolish) stunts with the captured alligator, including rolling it over and putting it to sleep!

Up Close Encounters Show
This show is more personal and always changing. One day you may get to meet a small alligator and the next a snake. It is a more personal and you get to be close to, or even touch, the animal while the handler teaches all about it. For some kids, this is the most exciting show at Gatorland.
Gator Night Shine
This educational and thrilling event takes you through the alligator breeding marsh at Gatorland…………..at night! While walking the winding wooden walkways you listen to the night sounds. Then you turn on your flashlights and notice hundreds of glowing red eyes watching you. They are waiting for the hot dogs that you are given to feed them with. There is a separate cost for this event ($19.99) and you need to schedule it at least 24 hours in advance. It takes about an hour to one and a half hours.
Very Merry Aviary
One of my favorite animal exhibits was the Very Merry Aviary. There are hundreds of Budgies (parakeets) in a large screened in the exhibit. You can enter the enclosure and offer them food. If you have any fear of birds, do not go in this one. The Budgies will land all over you.
Why Gatorland
As you can see, even though it is a smaller attraction, there is still a lot to see and do. So for a lot less money you can have a slower paced, yet still entertaining day and learn a lot about wildlife at the same time. See their website for more information.
Find Us On Social Media