Post last updated on Jun 7, 2022 @ 12:39 pm
Have you ever wanted to see a real-live rocket launch?  Luckily, just over an hour's drive, you can experience the thrill of seeing a rocket launch from Cape Canaveral.  And the best part is- it is totally FREE.
Getting NASA passes can be expensive and they are limited. If the launch is scrapped, you lose out on both the experience and your money. By going to the viewing area frequented by the locals, and on a clear day, you can view the rocket launch for approximately four minutes into the flight.  If you bring binoculars, sometimes you can see them for longer.
Space View Park
Space View Park in Titusville is located along the Indian River, directly across from NASA's Launch Complex 39. The park is small and parking is free. Plan to arrive about one hour before the scheduled launch. If the park parking is full, park across the street behind the Well's Fargo Bank.
This park has a long pier you can explore or, if you choose, sit on during the launch. A word of caution- portions of the pier do not have railings so be sure to hold onto little ones.  Also as an added bonus, the manatees sometimes frequent this area and you can see them in their natural habitat.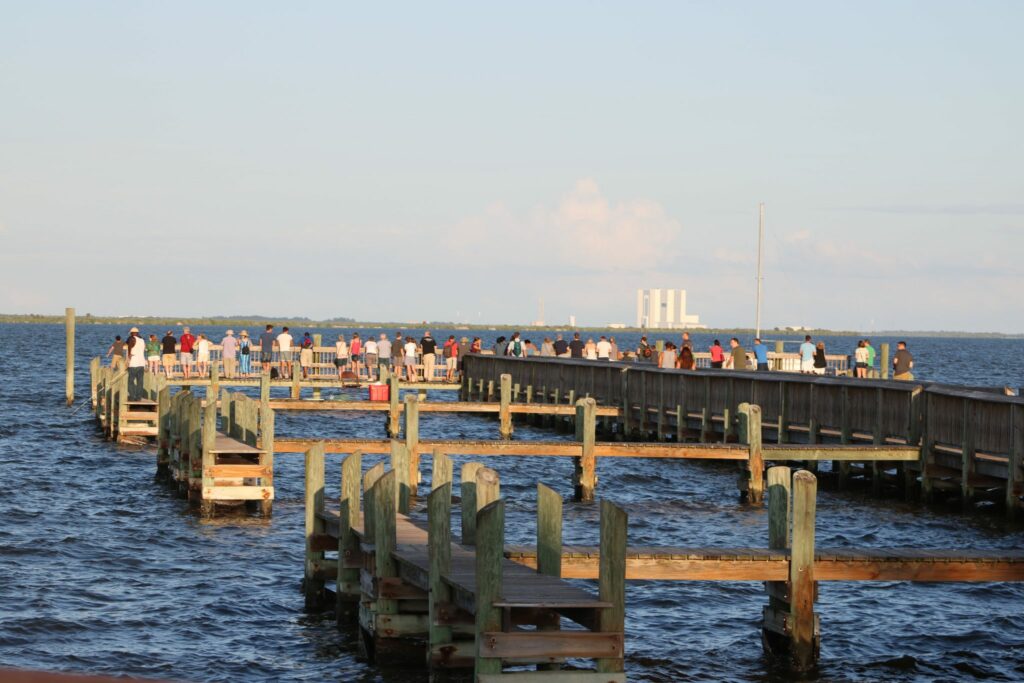 What to Bring
Bring your own beach chairs and a cooler with dinner, snacks, and beverages. There is plenty of space to sit along the edge of the water or further back in the park.   The fantastic view and the camaraderie among the locals add to the experience. The locals are very eager to share their experiences with past rocket launches.  Many were willing to share their binoculars to get a better view of the rocket on the Launchpad.
You can monitor the control room action from your mobile device. Many times launches get delayed or scrapped even in the countdown. We tuned into spacex.com, but there are other websites such as LaunchInfo.com that have regular updates. Be sure to bring an external battery in case there is a delay. For the Pokemon Go players, this park is a Pokestop and there were plenty of catches to be had!
Going to the space launch was a highlight for us on our last trip to Florida.  I highly recommend seeing at least one if the timing works for your visit. Be sure to see our video of the event.
Click on the links for more information on the Launch schedule from NASA and Kennedy Space Center
Directions from Kissimmee to Titusville (Google Maps)
Posted by Joanna at https://vacationorlando.rentals
Find Us On Social Media