During your vacation in Orlando Florida, we bet you will be looking for a great place to eat! Or have a great tasting, thirst-quenching beverage! One of our favorite places for both is Rock 🎼 Brews Restaurant in Kissimmee!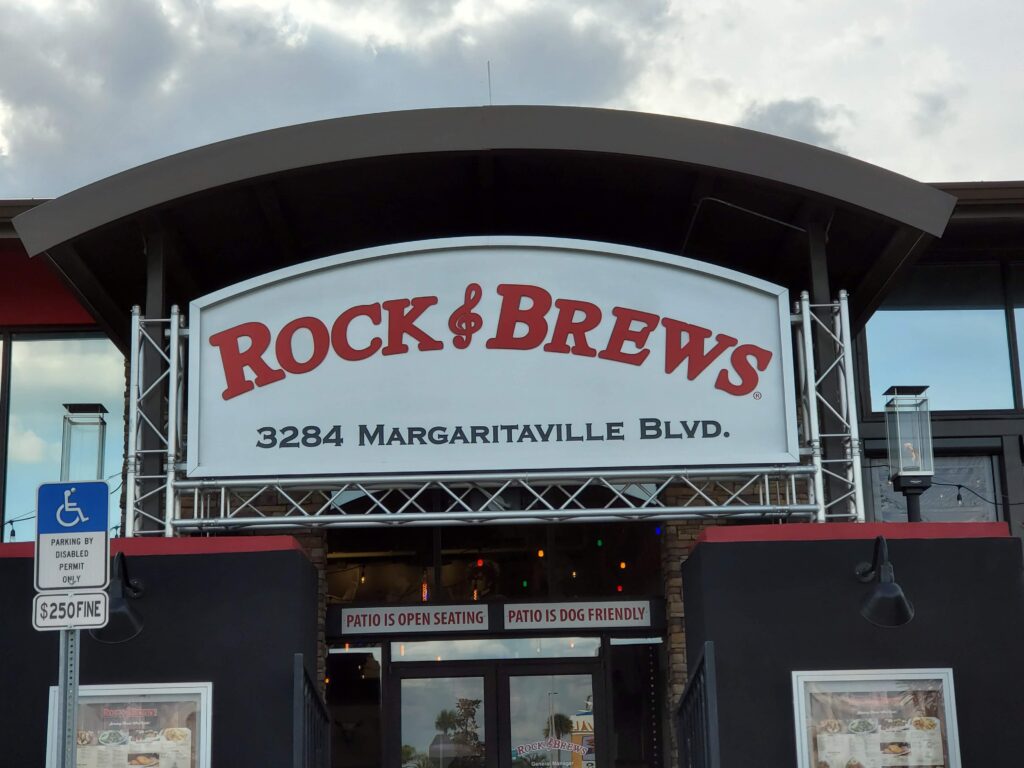 One night In 2010 when Dave Furano, a well-known concert promoter, his brother, and his restauranteur friend attended a Kiss concert. After the show, they joined Gene Simmons and Paul Stanley backstage to enjoy a few beers. Dave asked, "What's better than rock and brews?" That night the restaurant Rock 🎼Brews was born.
The Rock
Rock 🎼 Brews Restaurant combines the love of rock n roll music, great eats, and a love for craft beer. The ambiance of each restaurant will bring back memories of your favorite concert. When you follow the friendly staff to your table, either inside or the covered outside seating, you will be immersed in music memorabilia, videos, pictures of music icons, your favorite songs playing, and more. PS. Pets are allowed at the outdoor seating!

The Restaurant
Casually eat at the family-style table while enjoying the entertainment on all sides of the restaurant. The Great Wall of Rock pays tribute to many iconic rock legends. Young rockers are the featured act by offering a fantastic kids menu and many activities to keep them happy.
As for the "Restaurant". All I can say is fantastic! Every trip we make to Kissimmee, our first place to go eat is Rock 🎼 Brew. One of my favorites is the mouthwatering "Blackened Chicken" pasta. Just the right amount of spice, lots of chicken, Parmesan cheese & garlic cheese bread. My wife loves the tasty Fish Tacos! A tastebud tantalizing combination of fish, coleslaw, sliced guacamole, and salsa in soft tortillas served with your choice of a side dish.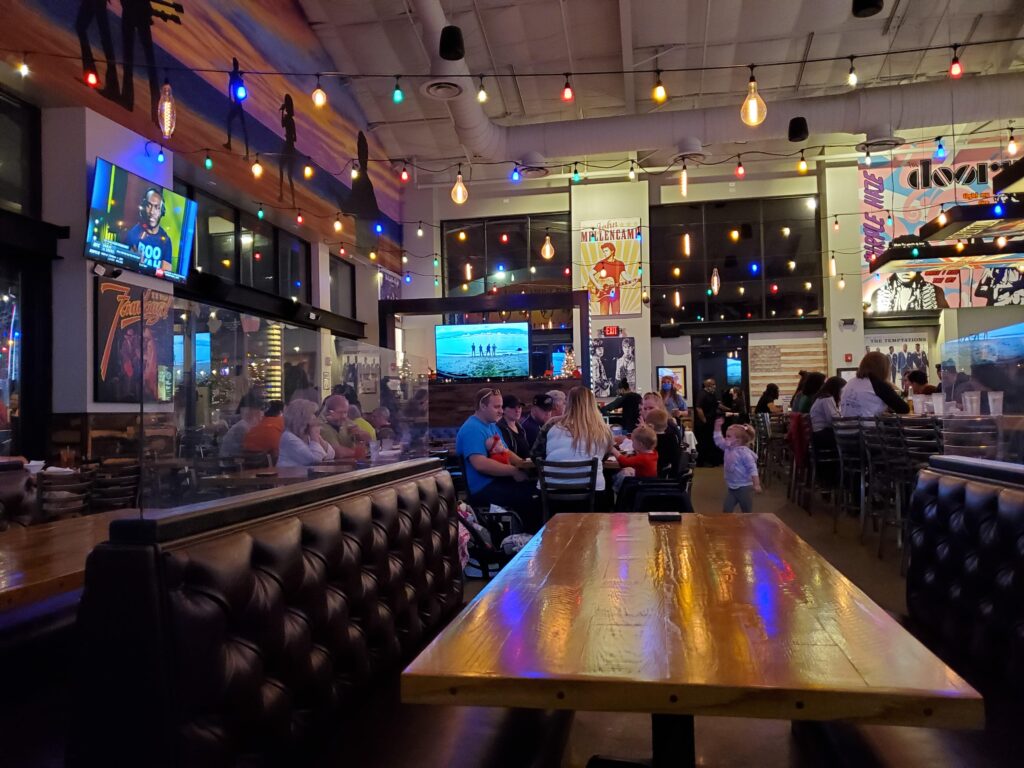 All ingredients and foods are locally sourced and made from scratch. Food choices are a classic comfort style with what they refer to as a "unique take". The menu includes great appetizers, Signature wings, steaks, seafood, chicken, pasta, pizza, burgers, sandwiches, salads, soup, sides, and more. Great desserts will finish your meal. Vegetarian, gluten-free, and other specialty diet options are available. The prices are moderate, the staff is friendly & attentive, and the atmosphere is fantastic!
The Brews
The "Brew" in the name is obvious. Quench your thirst with your favorite from the vast list of beverages available. The selection comes from local artisan beer makers as well as globally known brands. The list of available brews is endless. I counted about 66 on the menu. From Lager & Pilsners to Wheat, to Belgian, to Malty & Dark, to Hoppy, to Lagers & Pale Ales, and more. The rotating menu of seasonal brews keeps you coming back again and again.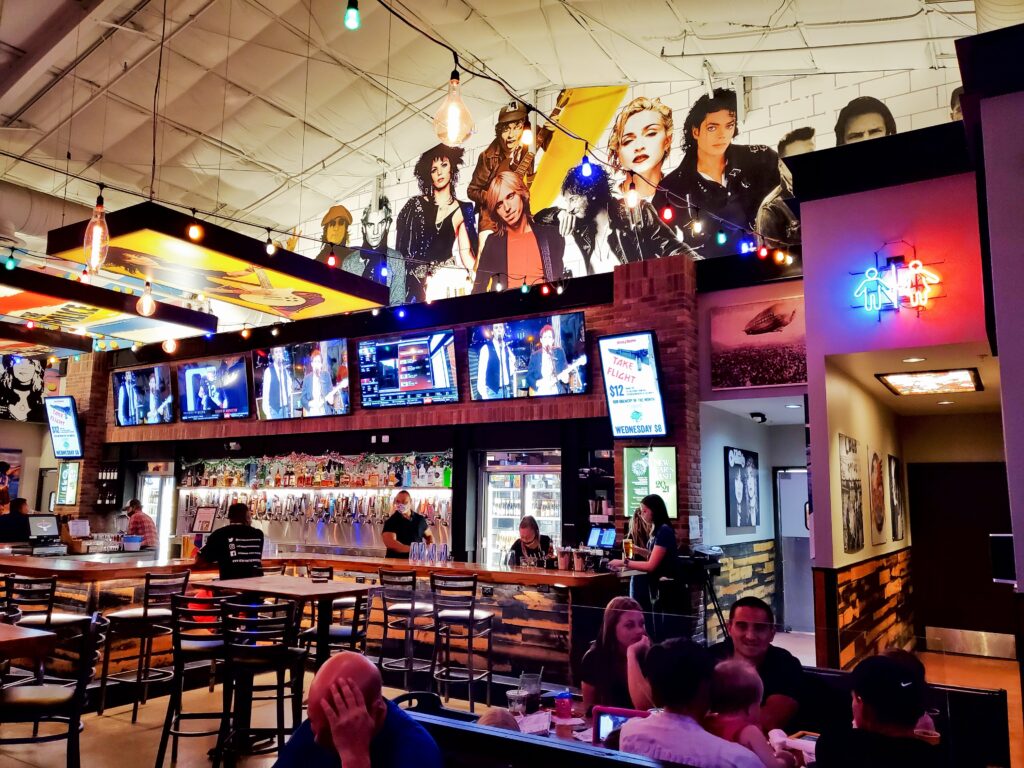 If it is a mixed drink you are looking for, one of my favorites is their fantastic Bloody Mary! My wife likes the "Smoke on the Water", it's great-tasting and fun to see. Rock 🎼 Brew also specializes in Margarita's. Try the $4 Margarita Happy Hour!! Whatever your heart desires, they have it.
The Rock 🎼 Brews Restaurant is located less than 2 miles from Emerald Island Resort and is easy to get to. You can find it located right front of Margaritaville on RT 192 in Kissimmee near Rolling Oaks Blvd.

The restaurant chain has a vision beyond the wall of the restaurant by being part of each community that it serves. They are proud supporters of many local veterans organizations and local schools.
Dining Out In Orlando with Food Allergies and Dietary Restrictions
Find Us On Social Media