The Wizarding World of Harry Potter
If you are a Harry Potter fan, a trip to The Wizarding World of Harry Potter at Universal's parks is a must. You will feel like you have stepped right into the world of Harry Potter, whether you visit Hogsmeade Village or Diagon Alley.
If you want to see both you need to purchase a park to park admission ticket. This is the only way to be able to ride on the Hogwarts Express Train as well. The train goes from Hogsmeade to Diagon Alley or vice versa, but without tickets to both parks, you cannot ride on it. However if you can afford both tickets be prepared for a long, but thrilling day of living in Harry Potters world.
Hogsmeade Village at Universal's Islands of Adventure
I will start with Hogsmeade Village at Universal's Islands of Adventure theme park. This was the first Harry Potter section to open at Universal Orlando. As you enter the village through the large stone archway it is like stepping into a small snow-covered village in the UK. At the entrance, you will encounter a replica of the Hogwarts Express train engine. This is a must stop for taking a few pictures standing in front of the engine. At the other end of the street high up on a mountain is Hogwarts Castle and it is a truly impressive structure.
Harry Potter and The Forbidden Journey
In the castle is the long-awaited Harry Potter and The Forbidden Journey thrill ride. To get to this ride you have to enter the tall gates of Hogwarts School of Witchcraft and Wizardry and then make your way through the castle corridors and many of the rooms shown in the films. It is nearly as much fun waiting in line as it is when you actually get on the ride. Two of the highlights for me were seeing Dumbledore's office and the Sorting Hat. When you do get on the ride, prepare for a fast-paced super thrilling time as you face a fire-breathing Dragon, Dementors and more.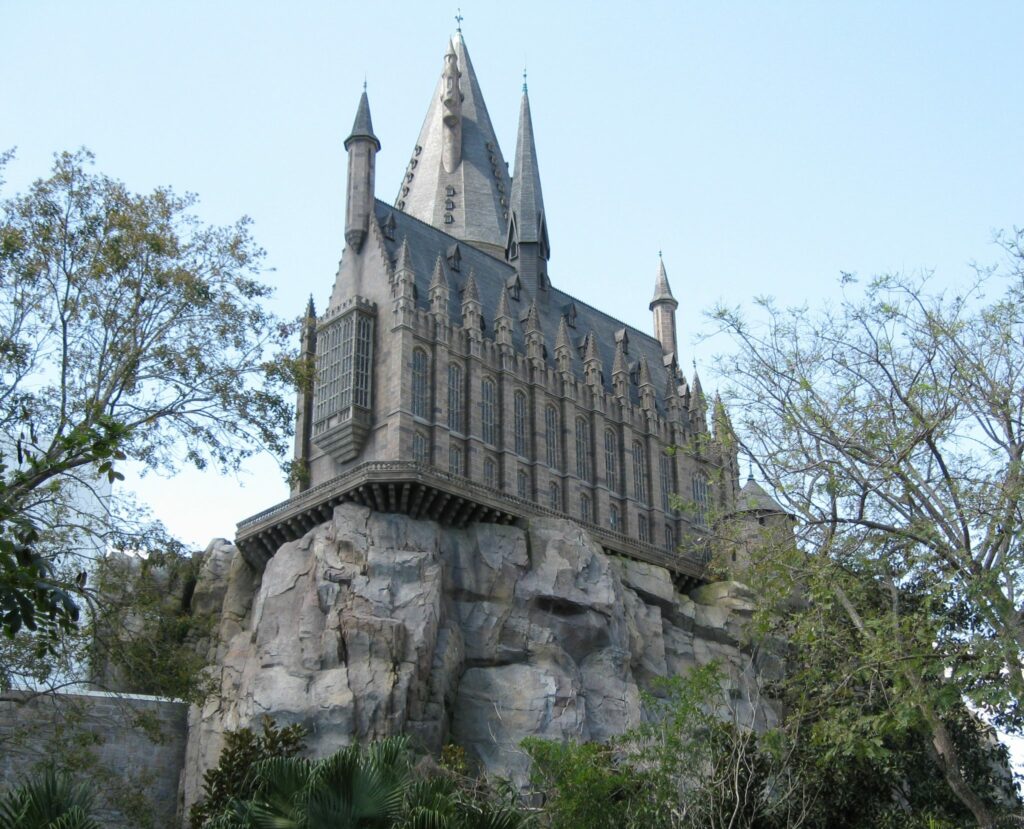 Flight of the Hippogriff
Another ride in Hogsmeade Village is called the Flight of the Hippogriff. On this ride, you fly through the air on a kiddie roller coaster that looks like a mythical creature called a Hippogriff. While waiting in the queue for this ride you get to pass Hagrid's hut and will even hear Fang barking.
Food, Drink & Shopping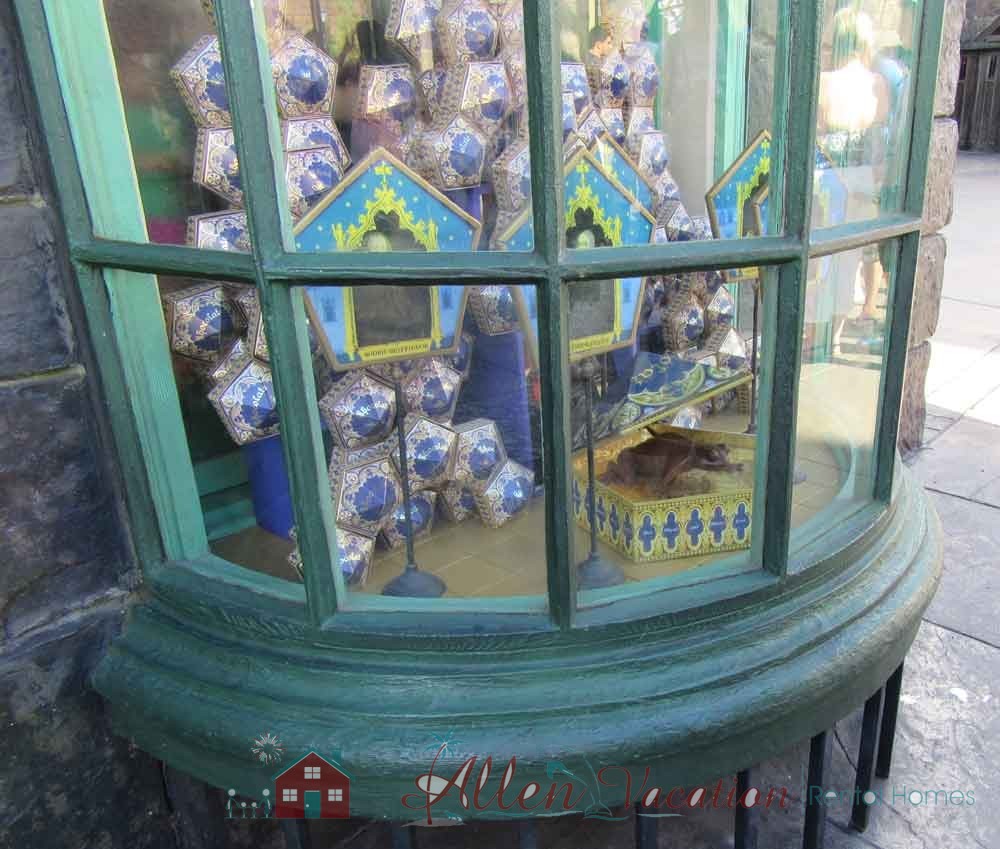 After strolling around Hogsmeade Village and enjoying the rides you might want to sit down for a breather. Stop in at the Three Broomsticks for a bit to eat or a full meal. Try a Butterbeer along with some Fish and Chips of Sheperd's pie. There are lots of other British treats there as well. You can cool down inside in the air conditioning or sit outside with an outstanding view of the castle. In case you are wondering the non-alcoholic Butterbeer drink tastes like butterscotch. If you prefer a Butterbeer version with alcohol, try the Hog's Head Pub, where you will also find other beers, mixed drinks, and wines.
Shopping is a fun way to spend the afternoon. If you have children with you they will probably want to stop by Olivanders Wand Shop first, where the wand picks wizard it will belong to. You can also purchase an interactive wand here to use in the rest of Hogsmeade Village, or even in Diagon Alley. There are various spots where they can use the wand to perform a little magic of their own.
Honeydukes Candy Shop is another must for the kids. Here they can find the sweets that were offered on the Hogwarts Express in the movies.
Filch's Emporium of Confiscated Goods is another stop worth visiting. They sell lots of items that were seized by Argus Filch, the school caretaker at Hogwarts. For other wizarding items like broom and Quidditch gear visit Dervish and Banges.
To end the day you may want to stop by the Owl Post to mail postcards to friends and family. At the post, you can purchase stamps and stationery, then take a rest while you write about your exciting day at The Wizarding World of Harry Potter. If you mail them from the Owl Post they will even have an official Hogsmeade postmark.
Hogwarts Express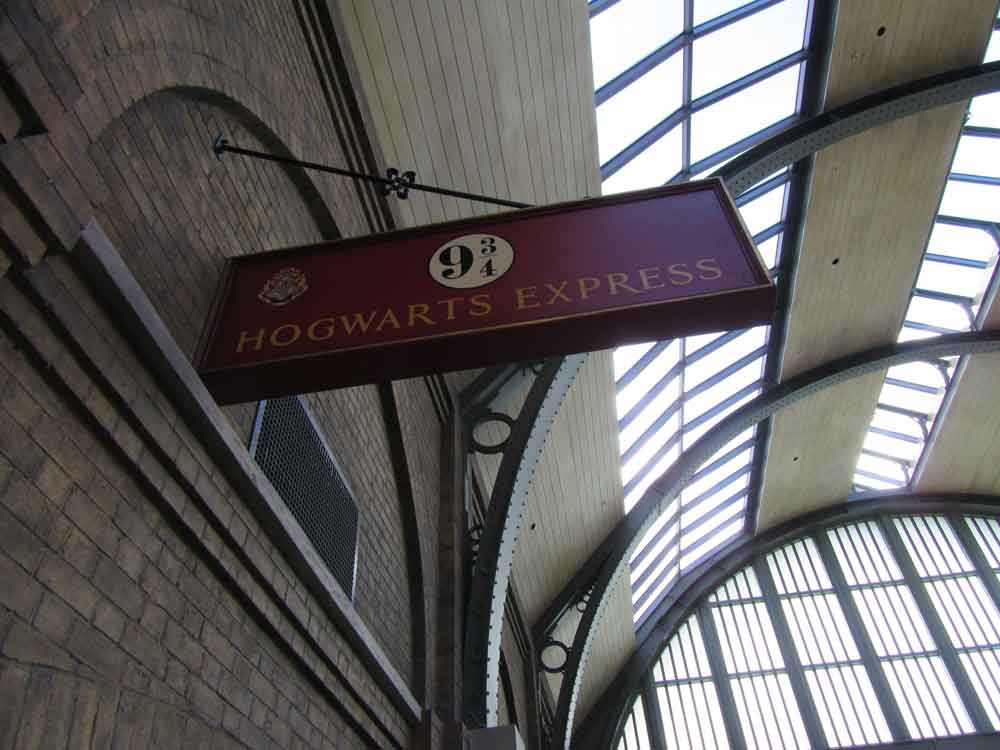 That is of course if you only purchased a one park ticket. If you bought tickets for both parks, then head on over to Hogsmeade Station. Then board the Hogwarts Express for a short trip to the King's Cross Station in Diagon Alley at Universal Studios Florida. On the trip, you get to see the British countryside pass by and may even get a glimpse of Hagrid or other creatures from the movies. You really feel like you are on the Hogwarts train heading off to start school. When you do get to Diagon Alley you will walk out of Platform 9¾. As you leave the station you will notice a traditional looking red British phone booth. Be sure to dial 62442 to be connected to the Ministry of Magic.
Diagon Alley at Universal Studios, Florida
Welcome to Diagon Alley where Harry Potter shopped for his books and wand. Here the feeling you get is more like walking through the back streets of London. Big building, narrow streets and lots of shops. You will also get to see the Night Bus and listen to the shrunken talking head, just like in the movie.
Harry Potter and the Escape from Gringotts.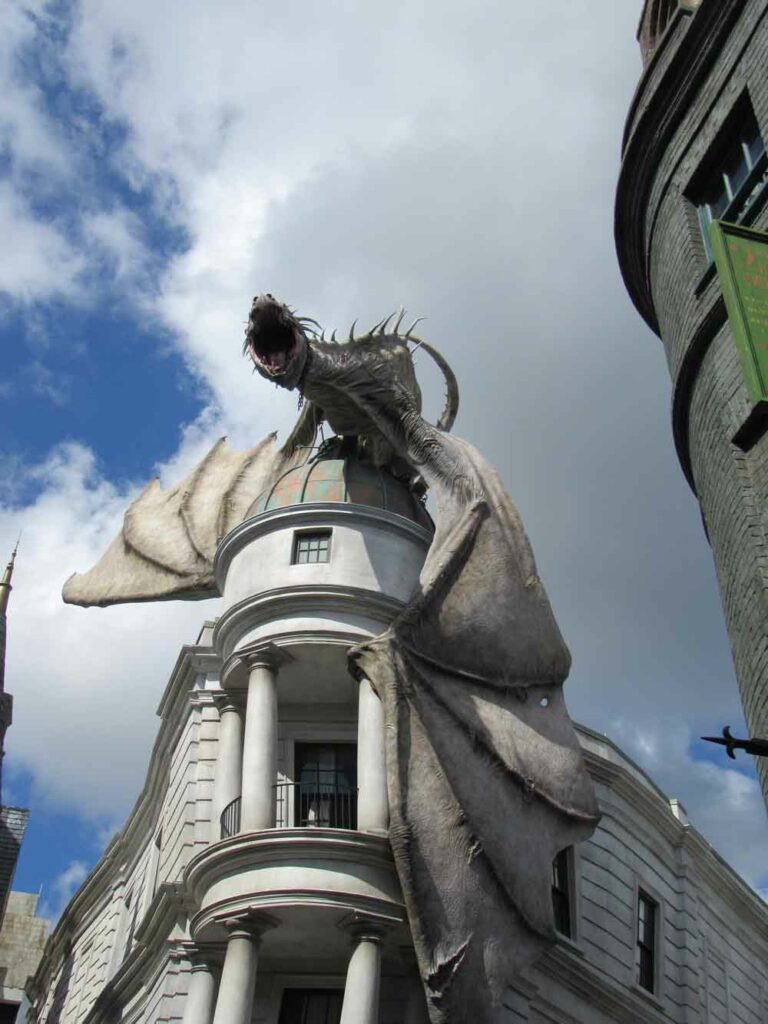 In Diagon Alley, there is only one ride, but we hear it is a wonderful experience on the Harry Potter and the Escape from Gringotts. To get to it you need to enter Gringotts Bank, with the fire-breathing dragon sitting on the top of it. You walk through the grand marble lobby where the goblins are all hard at work. While you are there you can talk to a goblin and exchange cash for Gringotts notes to use in Diagon Alley or Hogsmeade. On the ride, you will need to evade the evil Lord Voldemort, Bellatrix, Trolls and other creatures.
Shows
Along with the ride for thrills, there are a couple of shows put on during the day. You can hear the tales of Beetle the Bard at the Wizarding Academy of Dramatic Arts. They retell two famous tales of Beetle the Bard which are called The Fountain of Fair Fortune and The Tale of Three Brothers. A second show is called the Celestina Warbeck and the Banshees which is Molly Weasley's favorite singer.
Food, Drink & Shopping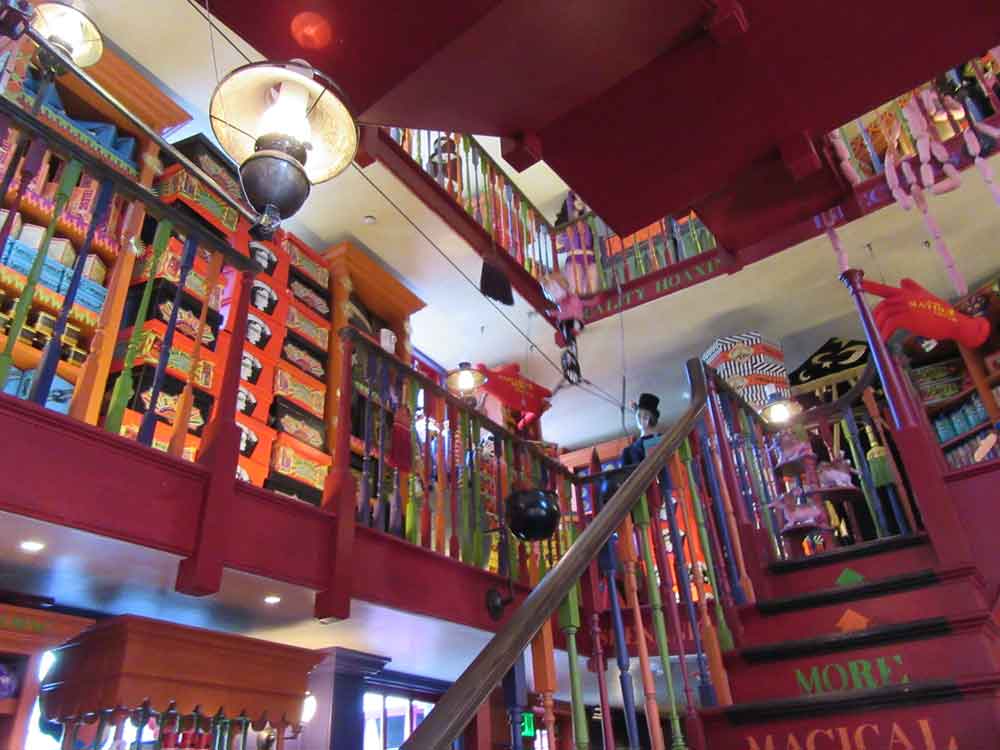 By now you may be ready for little rest and the Leaky Cauldron is a good place to do this. Sit down inside for a British meal and recharge your batteries.
Once your belly if full get ready for some memorabilia shopping. At Diagon Alley there are a lot of shops to check out, as listed below:
Ollivander's Wand Shop – Yes, there are two Olivanders one at either end of the Hogwarts Express.
Wiseacre's Wizarding Equipment – Find a variety of wizarding wares like crystal balls, telescopes, hourglasses and Hogwarts apparel.
Weasleys' Wizard Wheezes – A joke shop, of course, run by Fred and George Weasley. They sell items like pigmy puffs, U-No-Poo pills, and puking pastilles.
Wands by Gregorovitch – has a great assortment of Harry Potter character wand replicas and the interactive wands.
Sugarplums Sweet Shop – A candy store, like Honeydukes in Hogsmeade.
Skribbulus – to find authentic wizard writing supplies such as quills and inkwells.
Magical Menagerie – An assortment of owls and other plush toys. While here look for the Snake speaking Parseltongue.
Madam Malkin's Robes for all Occasions – Here you will find apparel like Hermione's gown, Dumbledore's robes or Hogwarts uniforms.
Borgin and Burkes – for deatheater masks, skulls, costume replicas, jewelry and other collectibles.
Throughout The Wizarding World of Harry Potter, your children will be excited to see many staff members dressed as wizards and witches. The staff will be glad to talk with them about the Harry Potter books or the wizarding world in general. The bottom line is that at the end of the day you feel like you really were a part of The Wizarding World of Harry Potter.
Find Us On Social Media