This week is the busiest time of year for the Orlando theme parks so we have put together the five things you need to know about the new security at the parks. With most of the parks reaching capacity daily, it is no wonder that your safety is of the utmost importance.  In the wake of our world culture at the moment, the three major Orlando parks  (Walt Disney World, Universal Studios Florida, SeaWorld Orlando) have jointly announced new security measures to help make your trip to the parks a safe one.  Here is how these security measures affect you.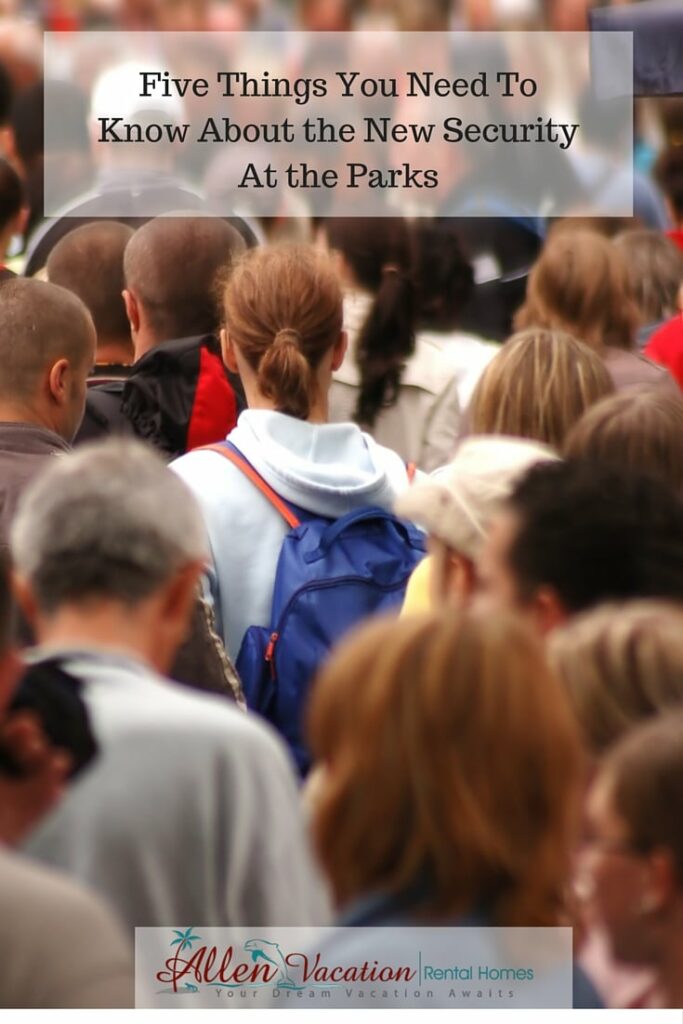 Allow Lots Of Extra Time
If you want to make "rope drop" on your next trip to the parks, allow lots of extra time.  A normal trip to the Magic Kingdom from our homes can take up to an hour and occasionally longer after you have fought the traffic, parked, taken the shuttle to the ticket entrance, taken the monorail,  gone through security, stopped at the lockers and rest rooms, and made your way to the rope.  With the new metal detectors in place, you will may need to add another 15-20 minutes.
Do Not Wear Your Costume
The parks are the most magical place on earth for all ages. Where else can adults dress like a princess and not look out of place.  Sadly, those 14 years of age and older are now banned from wearing costumes to the Disney parks.  You will be turned away at the entrance if you do.
Bring Along A Lot More Patience
It can be tough traveling with young children who can't wait to get into the parks.  The old saying "are we there yet?" will be repeated over and over.  Bring along your patience and a willing attitude, along with some snacks and small toys for the little ones to keep them busy while they wait in the lines.
 Cooperate With Parks Staff and Security
The park security and ticket staff have a tough job.  They will be required to randomly select persons to meet extra security checks.  Cooperating with them will make your trip to the parks a much more enjoyable experience.
Be Aware Of Your Surroundings
One of the most important aspects of keeping safe is to be aware of your surroundings.  If you see anything suspicious report it immediately.  For a full list of the rules for Walt Disney World see their website.
Being safe is a matter of being vigilant, but you don't want to let it spoil your family's fun. Taking these small measures will help you have the greatest vacation of all. For more information about the theme parks be sure to check out our Insider's Guide.
For rental information please visit us at http;//vacationorlando.rentals
Find Us On Social Media