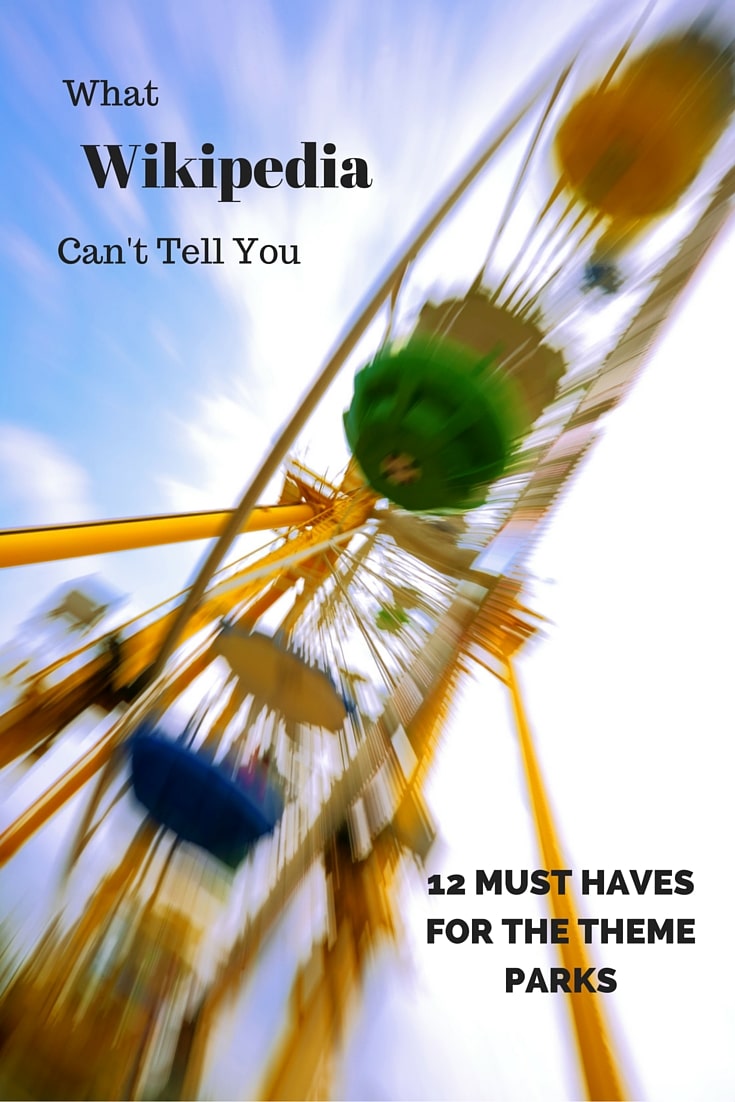 A trip to Orlando is an exciting adventure for the whole family.  There is a lot of planning before the trip and tons of details to cover, such as where to stay, where to eat and what to see.  One the most often overlooked planning is what to bring to the parks.  A little upfront planning can make all the difference between a good day at the parks and a great one. Here are 12 Must Haves For The Parks.
Comfortable Shoes
Be prepared to walk.  Disney has over 40 square miles of area, so you will be walking.  A great choice is a pair of comfortable tennis shoes. Be sure to make sure they are already broken in as you don't want blisters on your first day.
Light Clothing
The parks can get hot even on a cool Florida day.  The sun in Florida shines more than 300 days per year.  Be sure to bring light natural moisture wicking clothing.  A light sweater or sweatshirt that can be worn over a tank top is great for the evening.
Small Backpack
You will need something small to put your wallet and cell phone in.  All bags are checked at the entrance so the easier it is to open, the quicker you will get through the line.  Keeping it small will force you to pack light.
Sunglasses
The sun in Florida is very bright. Bring a couple of pair cheap pair of sunglasses that you won't mind if they fly off your face on one of the thrill rides.  Replacement glasses at the parks will set you back about $20-25 so having an extra pair will save you in the long run.
Suntan Lotion
Our recommendation is SPF 30 or more.  Make sure to remember to cover your neck, ears and head.
A Hat
A light hat such as a baseball cap or a floppy sun hat will help protect your head from the sun. Remember though, to stow them on the rides as they will fly off.
Hand Sanitizer
Why ruin your vacation with getting the flu or a cold. Germs are everywhere- including the parks.  Disney alone has over 17 million visitors per year.  That is a lot of germs! Bring a small container of hand sanitizer and use it often.
Refillable Water Bottle
A refillable water bottle for each person in your party is a must  Staying hydrated is very important to keep your day on track and not getting heat sick.
Personal Spray Bottle
The small personal spray bottles- some with fans are not a must have, but a nice have.  The cool mist that they provide can be so refreshing.
Portable Cell Phone Charger
Cell phones are a convenient way to stay in touch and communicate.  However a long day in the parks can lead to dead batteries.  Walt Disney World  and Universal Orlando do have charging stations throughout the parks, but if your party needs to divide and conquer and stay on the go a Portable Cell Phone Charger is very handy.  There are many brands of keychain sized chargers that will charge up a dead phone until you can find the down time for a full charge.
Rain Poncho
Especially in summer, the heat can cause afternoon showers.  Be prepared with a light weight poncho.  They are also great for rides like the Great Kali River Rapid ride where you are bound to get wet! You can pick one up for less than $1 at local discount retailers.
Easy Snacks
Quick snacks, such as granola bars or nuts are great to have when someone in the party decides they are starving!  This usually happens when you are near the entrance to that ride you just spent the last hour waiting to get in!  See our post Healthy and Easy Snacks  for the Parks to get more ideas.
Contact us for vacation rental homes in the Disney area at https://vacationorlando.rentals
Find Us On Social Media